Guides your way quickly and efficiently
You'll find your way easily when driving in unfamiliar locations with the help of the RNS 310/315 touch-screen navigation/radio system.
With a clear 5-inch colour screen displaying a map of your route, and touch-screen operation, there are no more worries about losing your way or running into unexpected traffic jams. The system will guide you to your destination with voice prompts and maps,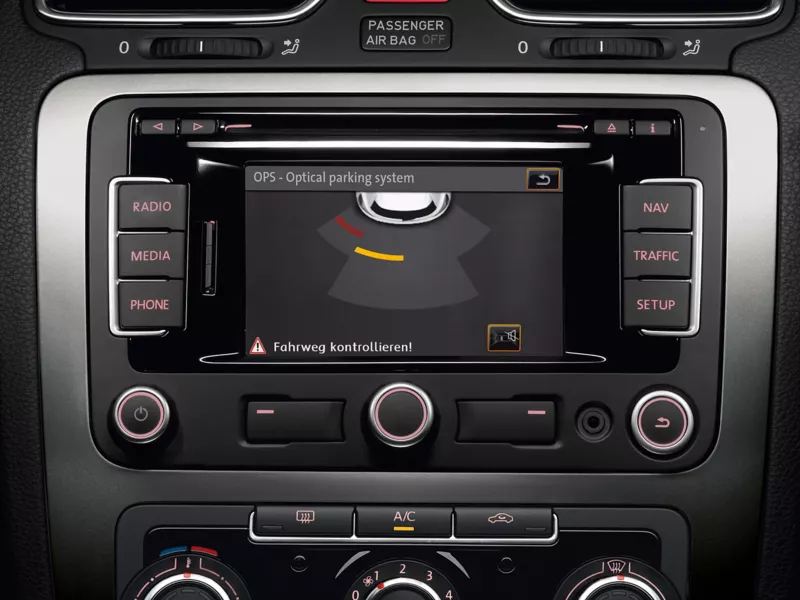 The system will warn you of any traffic problems and divert you to a better, faster route if one is available. The split screen displays both map and additional useful information for extra clarity.
And there's no need to stop the music while you're following your route - the Navigation data can be copied on to the SD card so that the CD player is kept free for playing your music. Alternatively you can plug your MP3 player into the AUX-in socket for music on the move.
Satellite navigation updates
The satellite navigation systems installed in the Volkswagen vehicles will need updating periodically. The update process is simple and relatively quick1 depending on the system fitted to your vehicle. Pop along to your local retailer and enjoy a coffee whilst we update your navigation system.2
For more information watch our RNS 310-315 video
Find your way easily when driving on and off the road
The RNS 810 DVD satellite navigation/radio system is our most powerful navigation system with the latest multimedia technology to guide you to your destination safely and easily using preloaded navigation data on the 30 GB hard drive. A clear eight-inch touch-screen colour display and integrated voice control, it's designed to make your journey more relaxed. The touch-screen allows for easy access to the infotainment system, allowing you to select music and even play DVDs when stationary.
The integrated DVD drive allows you to play videos, or music via the six CD autochanger, SD card reader or the 30 GB hard drive, using audio files, MP3 or WMA formats. Stay in touch safely while you're on the move, thanks to our standard telephone connection, a state-of-the-art communications unit with Bluetooth* wireless technology rSAP (remote SIM Access Profile) and HFP (Hands Free Profile). Each element is activated by voice recognition or via the infotainment system. Please contact your authorised Volkswagen retailer for specific phone compatibility.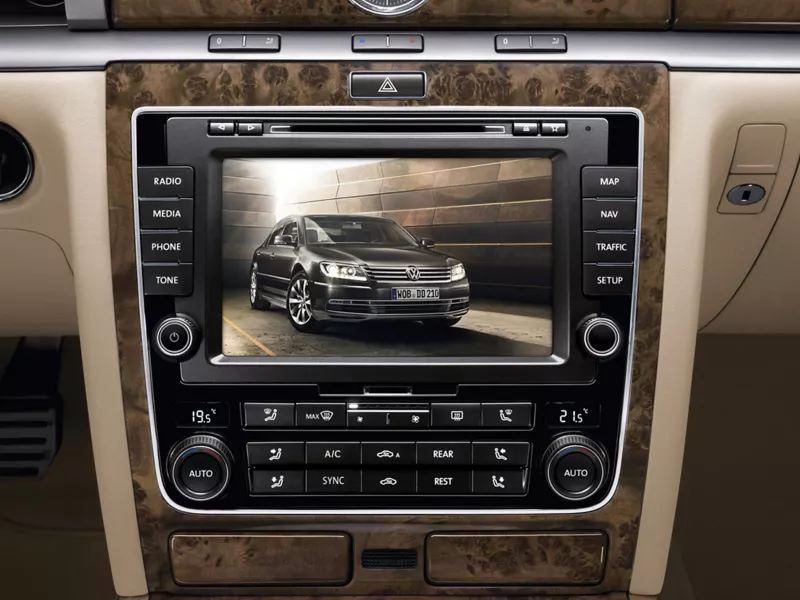 With pre-installed map data for the whole of Europe you can feel