The ID. Charger – the wall box for your home

The ID. Charger from Volkswagen Group Charging GmbH (Elli) is the modern charging solution for your home. Intelligent, efficient and innovative. See for yourself.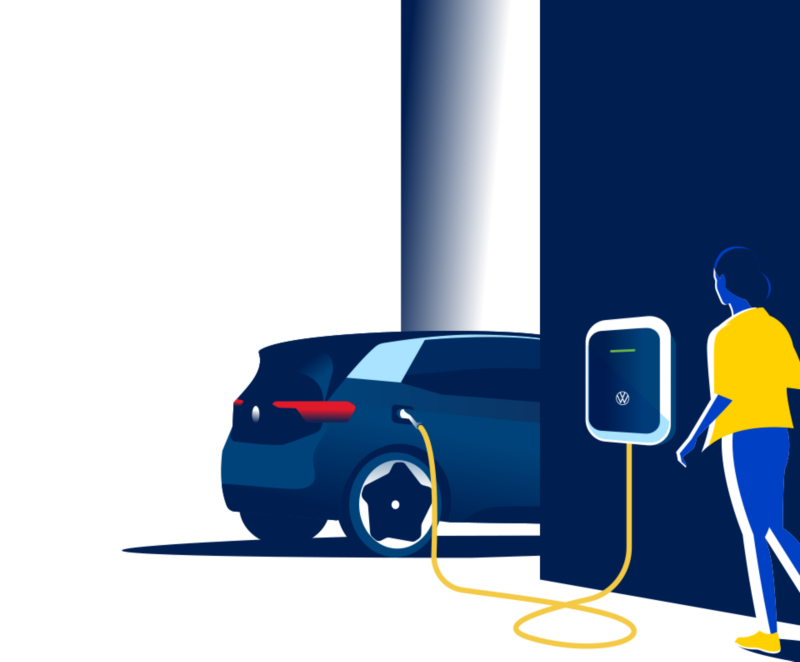 The charging station for home

This will make electric mobility even more convenient: simply come home, connect your electric vehicle and relax – and then start the next day full of energy. Bringing the future to today. Individual and practical. With all their advantages and functions, the ID. Charger models from Elli offer exactly the right charging solution for your home and your needs.
Comfort through compatibility

Using the ID. Charger, you can charge all current and future electric vehicles from Volkswagen as well as those of other manufacturers with a type 2 connector. The charging cable is permanently connected to the charging station, putting an end to searching, untangling and stowing away – another added comfort.
Access restriction for greater security

You decide who is allowed to use your ID Charger Connect or Pro. You can authorise vehicles and lock or unlock the wall box via your We Charge card or app.
The two ID. Charger models, "Connect" and "Pro", connect to the Internet via WiFi, Ethernet or LTE including a data package (standard on the "Pro" model, optionally on the "Connect" model). Via the We Connect ID. App you can access your wallbox to manage it, control charging processes and much more.
With its MID-certified electricity meter, the ID. Charger Pro is perfect for everyone who needs accurate and individual current measurement, such as company car drivers.
Attractive price and performance

The ID. Charger models let you charge your electric car conveniently and comfortably while also benefiting from attractive prices.
One ID. Charger. Three variants.
High-quality,

Volkswagen

design

Charging power up to 11 kW AC (3-phase) or 7.4kW (Single phase)

Fixed charging cable up to 7.5 m long

Integrated residual current circuit breaker

Compatible with overload protection

equipment
The perfect connection:
Internet and the ID. Charger 

Depending on the model variant, the ID. Charger can provide you with helpful information in real time – directly to your smartphone via the app.
The ID. Charger Connect and the ID. Charger Pro come with online functionality as standard and can connect to the Internet in your home via WiFi or Ethernet (LAN).

LTE/4G
The charging stations ID. Charger Connect and Pro are also LTE/4G-capable (chargeable additional option for ID. Charger Connect) and ensure optimal wallbox app communication - unlimited data volume included.

LTE/4G with MID electricity meter
The ID. Charger Pro communicates via LTE/4G, the latest mobile phone standard. An integrated MID electricity meter measures the power consumption and your charging app provides a transparent overview.
Quick and uncomplicated:
the ordering process

ID. Charger, ID. Charger Connect or ID. Charger Pro: Choose the wall box from these three variants, that suits your needs and living situation best. You can conveniently check online which model can be installed in your home.  
Simple and convenient:
the installation

service

from Elli
Do you want a charging station for home use? All you have to do is opt for the installation service and then you can sit back and relax.
With the optional installation service – carried out by certified installers – you can be sure of expert and professional advice, installation and commissioning of your ID. Charger.
If you would like to take advantage of the installation service, we recommend that you carry out our free online pre-check in advance. With just a few clicks, you can find out whether it is generally possible to install a charging station in your home.
Installation without complications
The most important aspect of the ID. Charger installation package: once it has been agreed, you don't have to worry about anything else. The installers bring along everything they need for the installation service. From expert knowledge to safety switches and cables.

Everything is checked during a home check as part of the installation package. Just to be on the safe side. The most appropriate site for your ID. Charger is agreed together with you, and then the unit is professionally installed and commissioned. Additional cabling and wall openings are optionally available. Finally, the charging station is tested with your electric vehicle – or with a test device if you don't yet have one. The job is only done when electricity flows and your car is charged properly.
Detailed information about the installation package

What is more, our partnership with SSE Airtricity
https://www.volkswagen.ie/en/sse-airtricity.html also offers you a home electricity tariff using 100% renewable energy sources. So that you can go green at home too.
Configuration of the Connect models 
If you connect your ID. Charger Connect or ID. Charger Pro to the Internet, you can configure the device online and operate it with the We Connect ID. App.
To configure your ID. Charger model for app control, you must first connect your smartphone to the wall box's WiFi hotspot. Then the wall box can in turn be connected to your private WiFi.
To connect your ID. Charger Connect or ID. Charger Pro via app, you simply need the We Connect ID. App. Then you need to log in with your Volkswagen user account or create one.  
With the charging card included in the installation package, you can set up access control if required and ensure that only you can charge at your wall box.