The best way to foresee the future is to invent it yourself. That is why we are actively shaping the electro-mobility of tomorrow. With a whole host of visions, ideas and technical solutions. We use these to create cars that make your life easier and better. Cars that perfectly demonstrate the fact that future arrived a long time ago.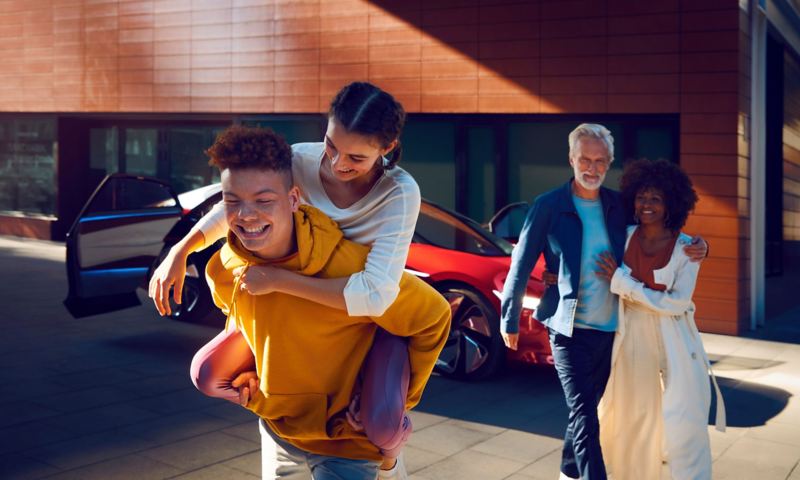 As the name implies, the concept car ID. Vizzion electric car is our vision for the electric car of the future: a premium saloon with a progressive design, intelligent interior concept and pioneering technology.* Electric motors on the front and rear axles mean that the vehicle can achieve extra-dynamic acceleration with its four-wheel drive. The powerful lithium-ion battery, which is built into the vehicle's underbody, is able to achieve a range of up to 665 kilometres.
In the ID. Vizzion, you take centre stage. You will already notice this before you get into the car because thanks to its facial recognition function it opens the doors for you. At the same time, the LED lighting strips that surround the car start to pulse. Once inside, you will feel as though you have entered a spacious lounge, so simply sit back and enjoy the comfort of the ergonomic seats. The side windows and panorama glass roof can be tinted as required. 
The only thing you have to give up is the steering wheel. All the controls are virtual and are projected into the interior using augmented reality. The only way you can see them is with mixed reality glasses. Your interaction with the vehicle is completely intuitive, which makes it exceptionally easy. The ID. Vizzion recognises your gestures and listens to your commands. Over time, it is even able to learn, enabling it to adapt to your style. It may look like something from science fiction, but in fact it will soon be all science and no fiction.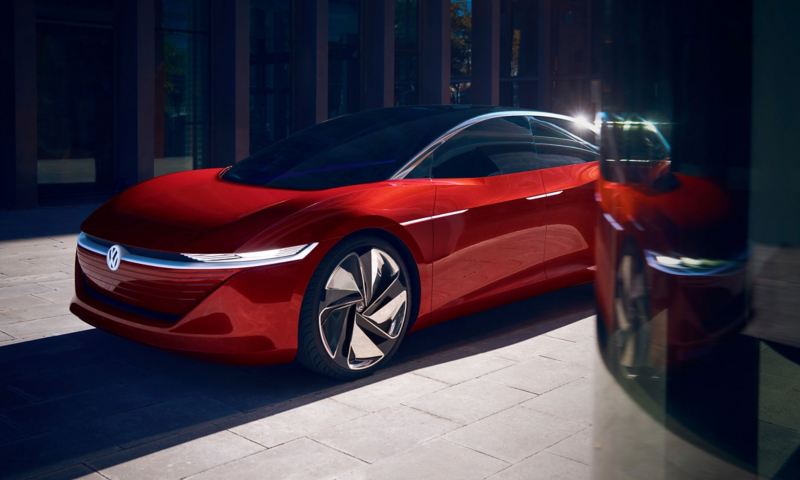 With the ID. Vizzion electric car fully automated driving will soon become a reality. Thanks to cutting-edge technology, the car can even become your own private chauffeur. So, this means that you can do whatever you want during your journey: enjoy incredible entertainment, work in peace, or simply sit back and relax. The interior lighting and temperature are automatically adapted to your preferences. There are also a few other innovations that not only benefit you, but other road users, too. The ID. Vizzion thinks of everything.
Guiding Projection. Pioneering technology.

The ID. Vizzion not only looks after you, but other road users, too. Using 8,000 individually controllable LEDS, the car's HD matrix headlights can project virtual zebra crossings onto the road. As a result, pedestrians can rest assured that the ID. Vizzion knows that they're there, allowing them to cross the road safely.
AR Interface. Virtual reality.

The ID. Vizzion is one of the world's first electric cars to provide an insight into what life could be like in 2030. There won't be any steering wheels any more. In fact, you won't need one any more because you will be able to control everything intuitively with gesture control and voice commands. The controls are all virtual. The only way you can see them is with mixed reality glasses. It may sound like science fiction. But it will soon be a reality.
Interior. Spaceship.

The doors in the ID. Vizzion open in opposite directions, providing easy access to the brand new interior. The "open space" concept is a large designer lounge geared towards you. Sit back on one of the ergonomic seats, tint the windows if you'd like, activate the sound suppression function and use your time to work or relax.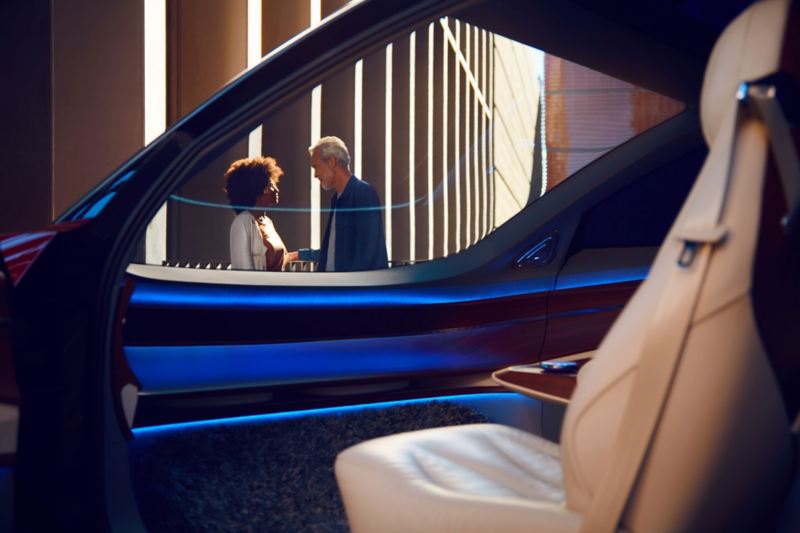 * Images and videos of cars, features and technoloy are for illustrative purposes only. Some features, design and specification shown and described may vary from what will be available in your market. Use of future technology may be subject to local market road rules and regulations. Cars are subject to availability.