More on our

Volkswagen

fluids, AdBlue® and care products
They protect the engine, transfer braking force and ensure cleaner air. Discover our operating and functional fluids, such as AdBlue®, coolant, brake fluid and screenwash. For cleaning and care of your

Volkswagen

, we recommend our care products.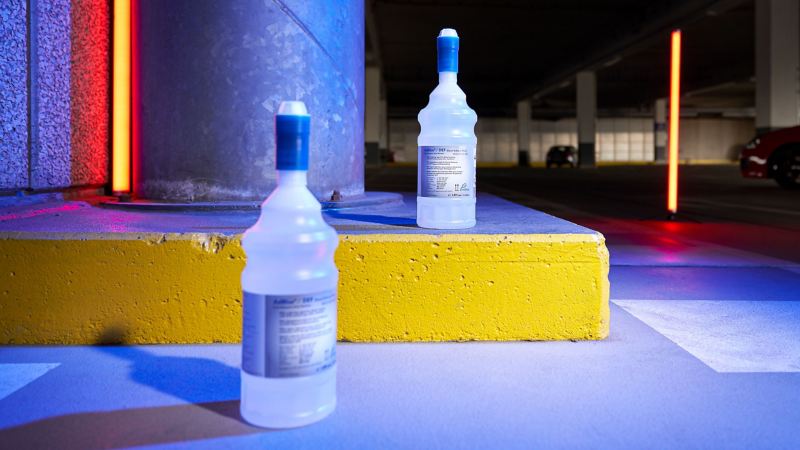 Fewer emissions with little effort
AdBlue® is an odourless urea solution. It reduces harmful nitrogen oxides in diesel vehicle emissions. What do you have to do? Simply refill AdBlue® after a few thousand kilometres and enjoy the benefits.
Volkswagen

models with AdBlue®

In addition to their low NOx emissions, AdBlue® models can be recognised by the separate filler necks. Depending on the model, this is located either next to the diesel filler neck, in the luggage compartment or the engine compartment – as a operating fluid, AdBlue® has to be filled separately. We have pulled together a number of tips on topping up with AdBlue® here.

Warning lamps: refill AdBlue®
Depending on your driving style and the model, your Volkswagen consumes an average of 1.5–2.8 l of AdBlue® per 1,000 km. A warning signal will indicate when it's time to refill – both 2,400 km and 1,000 km in advance.
Is one of the warning lights in your vehicle on and you don't have your manual to hand? Access an overview of all warning and indicator lights here.

Convenient, quick, affordable:
The AdBlue® Service. We'll check the operating range and refill your tank if necessary. So, you'll no longer need to worry when you're out on the road .

Book your AdBlue® Service online today.

A glossy finish looking as good as new

With our care products, you can ensure you have clean surfaces and spotless upholstery in your Volkswagen. More information can be found here.