Interested in driving electric but curious to know more? Here you'll find frequently asked questions in relation to grants, charging, and sustainability.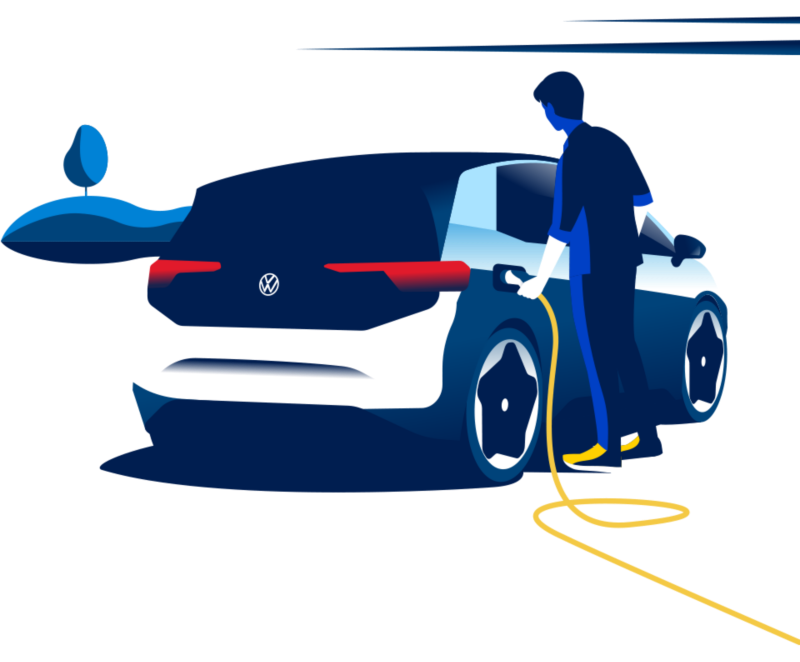 Frequently asked questions
For privately-owned BEV cars, the following are available:
SEAI Grant - Up to €5,000 depending on the list price of the vehicle

VRT Relief - VRT is paid whenever a car is registered for the first time in Ireland. Electric Vehicles receive VRT relief separately to SEAI grant support. VRT relief for BEVs is in place until the end of 2021 and for PHEVs until the end of 2020.

Low Motor Tax - Motor tax for a BEV is €120 per annum and typically €170 per annum for a PHEV.

Reduction in tolls - Up to €500 a year annual reduction in tolling costs on selected Irish toll roads.

Claim up to €600 towards the purchase and installation of an electric vehicle home charger unit from the SEAI.
In addition, for cars purchased for commercial use, the following is available:
0% BIK - Battery electric vehicles used as company cars are fully exempt from Benefit in Kind tax. To see how much you could save on BIK by switching to electric, use our

online

BIK calculator

Up to €7,000 grant available for battery electric vehicles used as Taxis, Hackneys and Limousines

ACA Savings - Companies, sole traders and farmers can avail of further tax savings on electric cars through the Accelerated Capital Allowance (ACA) scheme
No, 0% BIK (benefit in kind) tax applies to fully electric cars only. 
The most popular place to charge electric cars is at home. A government grant of up to €600 is available toward the purchase and installation of the wallbox. The power is taken from your domestic supply and billed as usual via your electricity provider. Most people opt to charge their car overnight. Charging at work is often an increasingly popular trend. There is also a growing network of public charging points, with many people opting to run errands while their car charges. For example, ESB owns and maintains approximately 1,100 public charging points.
They can be located using the online Charge Point Map or from the ecar connect app from the Apple App Store and Google Play Store. There is also a number of fast-charging stations provided by IONITY.
A number of charging points are also available through the EasyGo network.
If you would like to see a map of all public charging points from all providers in Ireland, you can use the Zap-Map app, which contains all charging providers including ESB, IONITY and EasyGo.
Charging times vary depending on the model of car and the power source used. The majority of people will charge using a Wallbox. It is, however, possible to charge via a domestic socket. For fast charging, a rapid charger can be used; however, at present, there are a limited amount of rapid charging stations in Ireland, and it is more expensive than standard charging.
If you charge your electric car at home using a socket or Wallbox, you will pay for the battery charge on your next electricity bill.
For public charging through the ESB public network, there are two price plans available to you, PAYG or Membership. The Membership price plan was developed for heavier users who charge their car five times plus per month on the ESB public charging network. To find out more about our price plans, please visit the pricing page. With the ESB public charging network, you can pay with major debit or credit cards from Visa or Mastercard. Payment can be made directly at any fast charge point using the ecar connect app, or on the website.
Most electric car drivers charge their vehicles at home. Depending on the night- or day-time rates, it can costs approximately €1.45 - €2.71 to charge a Volkswagen e-Golf enough to travel 100km.
To cover the same distance in a Golf TSI Petrol DSG would cost €8.20 and €6.95 for a Golf TDI Diesel DSG.
An ESB charge point access card is a credit card-sized card that allows you to start and stop a charge on the ESB public charging network.
For access to the IONITY network, numerous mobility service providers (MSP) have integrated the IONITY High-Power-Charging Network into their customer offers. MSP customers using the IONITY charging stations benefit from simple and contactless payment via customer card, RFID-token or smartphone app. IONITY do not issue charging cards.
It means that the car doesn't produce any emissions from the driving cycle. Volkswagen with the ID.3 will produce a car that does not produce any tailpipe emissions, however with this car Volkswagen is aiming to go one step further and offer the car with zero emissions including manufacturer by initially offsetting any CO2 produced during the car's production phase.
In Ireland, an additional 1,000 extra charge points will be installed over the next five years as part of a new on-street infrastructure scheme. Richard Bruton, the minister for communications, climate action, and environment, has announced funding that will help local authorities provide a widespread rollout of electric cars. They will receive €5,000 to develop 200 charge points every year until 2025.
In the same way that a petrol or diesel car will indicate that a car is low on fuel, an electric car will indicate that it's running low on power. It provides more than adequate warnings on the display, and the use of electricity is gradual, so it will not suddenly cut out without providing adequate warning.
As of July 2019, all newly registered electric vehicles must produce an artificial driving sound. This is because that all electric vehicles are almost silent at low speeds, therefore the risk of accidents occurring for pedestrians and cyclists can increase particularly unless an artificial driving sound is in place. The e-Golf is currently fitted with an artificial sound that alerts pedestrians. 
In addition, the Volkswagen ID. family models will use an Acoustic Vehicle Alerting System (AVAS) to generate an artificial driving sound – when moving off; at speeds up to 30 km/h; and when reversing. The AVAS in the ID.3 is audible on the inside and outside of the vehicle up to 30 km/h. Inside the vehicle, different stages of the driving sound are always audible based on speed and accelerator pedal position. Beyond the speed, the vehicle's rolling resistance and driving noise become more prominent.
Under EU Regulation (EU) No 540/2014, the fitment of AVAS to pure electric and hybrid electric vehicles becomes mandatory from 01 July 2019 for new types of cars and from 01 July 2021 for all new cars. Any AVAS fitted voluntarily ahead of these dates must comply with the applicable requirements as set out in this regulation.
Yes. The National Car Test (NCT) currently tests hybrid or electric vehicles.
Volkswagen Group is working with SKI, CATL, LG Chem and Samsung as strategic battery-cell suppliers for the most important markets and the first MEB models. The demand will reach 150 gigawatt hours per year by 2025. Thirty three billion will be invested in electric vehicle production by Volkswagen over the next four years to meet the demands required.
Currently, the Group uses only industrially mined cobalt for its batteries. We do not allow companies that purchase cobalt from small illegal mines to enter the supply chain. We work with suppliers and sub-suppliers to ensure that processed materials does not come from dubious sources. We cooperate with other industry partners to develop minimum standards for cobalt extracted from small mines – similar to the approach taken in the gold sector. The goal of our work in the Responsible Minerals Initiative includes standardisation of evaluation methods to "clean cobalt" from certified mines.
Electric mobility is the key technology in terms of replacing fossil energy sources. It reduces dependence on oil, slashes CO2 emissions and allows the vehicles of tomorrow to be fully integrated into new multimodal traffic system models. Electromobility represents a significant contribution to climate protection.
Yes, there is no need to worry about rain, a puddle or a car wash. The batteries in an electric vehicle are very well protected and water can't get into the battery cells so they are completely safe.
In the case of future owners of the ID. models there won't be any need to worry about the durability of their batteries, as Volkswagen will guarantee that the batteries will retain at least 70 per cent of their usable capacity even after eight years or 160,000 kilometres. This same guarantee also applies to the battery in the e-Golf. Drivers can also influence the length of a battery's service life. Normal charging is better for the batteries than rapid charging, and charging the batteries up to just 80 instead of 100 percent also increases their service life.
No, for the battery in an electric car there is no benefit to waiting until it is fully depleted before charging. Waiting until it is fully depleted won't improve the lifespan of the battery - it is perfectly fine to plug it in regardless of the amount of charge currently left on the battery.
The car's battery will deteriorate over time, however within the warranty period if it drops below an acceptable level (at least 70%) it will be replaced. Which in the case of the ID. family will be eight years or 160,000 kilometres.
You will need to apply for the SEAI home charger grant through the SEAI website. Electric (BEV) and Plug-In Hybrid Vehicles (PHEV) are eligible when they meet one of the following conditions:
Privately imported as new or second hand and registered in Ireland in 2018 or later

Purchased second-hand in Ireland
This is hard to accurately predict but will depend on any future taxations applied to these engines. However, it is worth noting that when you purchase your car with a PCP, the risk in terms of residual value lies not with the customer as much as the lender, as there is something called guaranteed minimum future value (GMFV) which means that there is a guarantee that your car will be worth at least an agreed amount after three years.
The government isn't proposing that these are banned, but that no new ones will be sold after 2030, so these cars would be allowed to continue, however the terms of this remains as yet unclear as it is not in line with the European Union's aims of the same process by 2040.
According to the ESB, yes. The grid is already, according to the ESB, ready for electric cars and even a sudden explosion in electric car sales would not put any significant extra demand on power generation. They say that Ireland has a modern, and well-managed electricity distribution network with good capacity levels across the country.
It means that the car doesn't produce any emissions from the driving cycle. Volkswagen with the ID.3 will produce a car that does not produce any tailpipe emissions, however with this car Volkswagen is aiming to go one step further by offsetting any CO2 produced during the car's production phase.