1

,

3
An interconnected world of possibilities
We Connect for ID. Models

2.

ID.5 GTX Stromverbrauch in kWh/100 km: kombiniert 17,1-15,6; CO₂-Emission in g/km: kombiniert 0; Effizienzklasse: A+++.
Welcome to the 

online

services

for your ID.

We Connect means avoiding traffic jams on your way home thanks to Online Traffic Information. Preheating the interior while you eat breakfast, listening to podcasts and discovering your new favourite stations with the Internet Radio in your vehicle. In short: We Connect takes digital options in your ID. to the next level. With a wide range of smart everyday tools that are also available to you from ID. Software 3.0 onwards, depending on equipment.4


Find out whether your ID. model is We Connect and We Connect Plus-ready here with our compatibility check.
5

5.

ID.4 GTX electricity consumption in kWh/100 km: combined 17.2-15.8; CO2 emissions in g/km: combined 0; Efficiency class: A+++.
5

5.

ID.4 GTX electricity consumption in kWh/100 km: combined 17.2-15.8; CO2 emissions in g/km: combined 0; Efficiency class: A+++.
Optimise your route and journey time with the Online Map Update and precise travel information almost in real time. Send navigation destinations via app to your ID. The Online POI Search doesn't just guide you to noteworthy destinations like attractions or restaurants. With an extensive database, it offers a wide range of useful information. You can also use it to view charging stations and available parking spaces. This makes your everyday life on the move even easier. And better all round. 
How to activate We Connect for your ID. 

Follow our activation guide to use your We Connect ID. app to connect with your ID.  
We Connect ID. app download
Get connected to your electric car with selected remote functions, relevant vehicle information and the We Charge charging service. Scan the code and download the app straight to your smartphone.
Additional functions in the In-Car Shop

Your ID. is well-connected. This allows you to download, activate or renew existing contracts for useful digital products straight from your car. The We Connect web shop and In-Car Shop on your infotainment system show you all the available products for your ID. If a product is available for a fee, activation is possible as soon as payment is received.Simply check the data and payment details and complete the order. The new function will be available the next time you start your electric car with an Internet connection.


Connectivity for ID. models with ID. Software 2.4 or older

If your model doesn't yet have ID. Software 3.0 as a minimum, you can use We Connect Start's Online Traffic Information, entertainment and remote functions.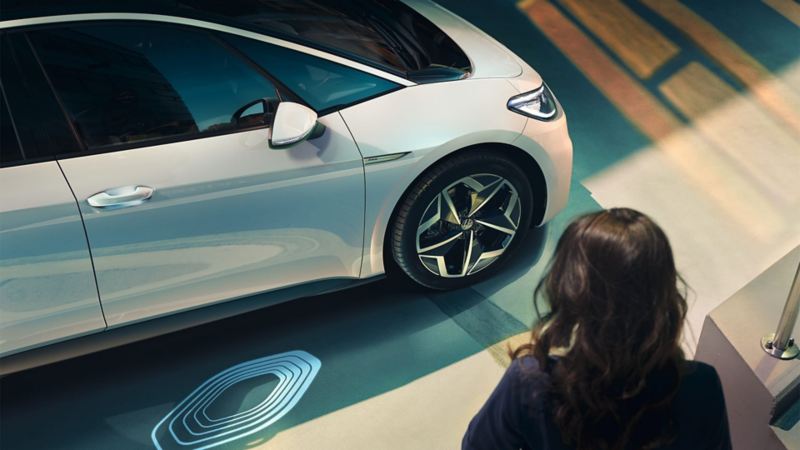 We Connect Start
We Connect Start12 also connects you with your ID. and offers a wide range of useful benefits. Here's how to find out which software version you're currently using in your ID.:
Open the menu option "Setup" in the infotainment system of your ID. Browse to "System information". The version of your ID. Software is shown in the section "ID. Software".