What would you like to do?
Choose from one of the following next steps or continue scrolling to explore the Arteon
The new Arteon is recognisable at first glance with a design and sleek silhouette that make a bold statement. Step inside and experience the stylish interior, intuitive controls and premium finish.
The new Arteon has many highlights. Check out these three:

The sharp and sophisticated design of the new Arteon makes a bold statement. Anyone wishing to add a touch more style to their new Arteon can choose from the Elegance or R-Line equipment lines, with the addition of specific features.
The essentials at a glance

Classic speedometer or high-resolution navigation map? Why choose? The Digital Cockpit Pro offers both at the same time:
High-resolution 26 cm (10.25-inch) TFT colour display

Different configurable displays

Access to detailed driving data on the multifunction steering wheel or the infotainment system

Targeted zoom into the navigation map

Full displays of selected information

Navigation maps and media displays can be combined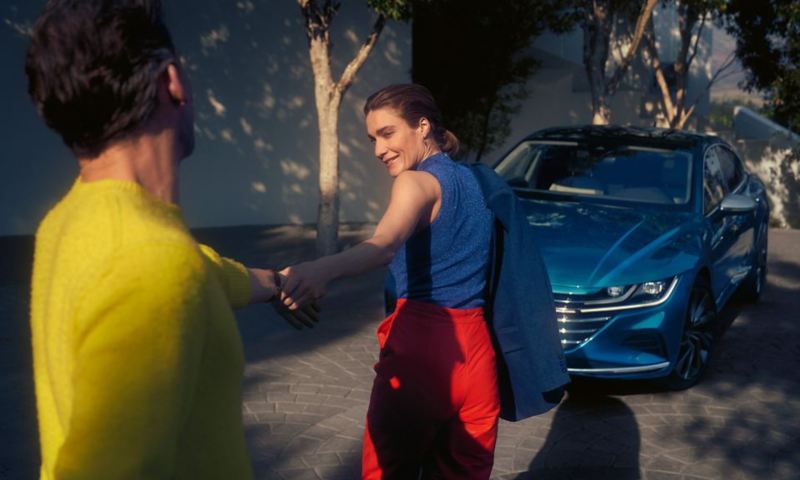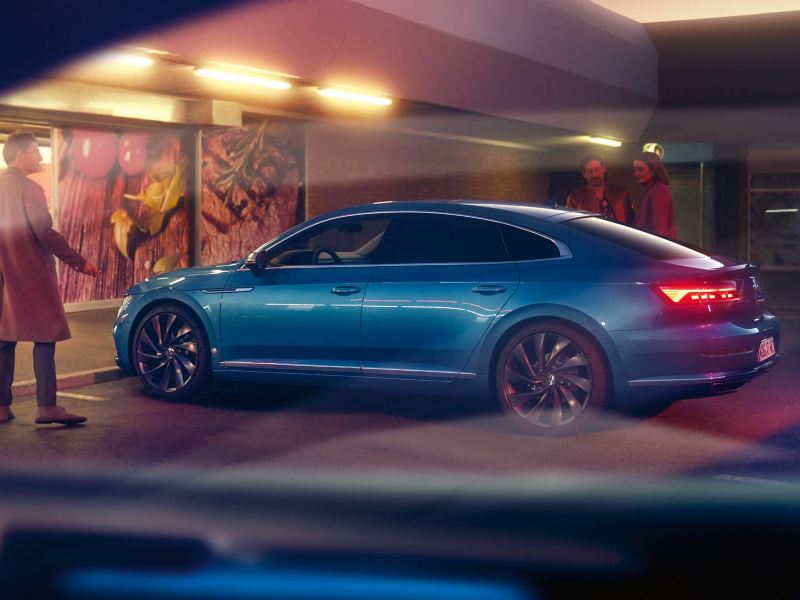 Discover the joy of getting to know your new Arteon.
Discover the joy of getting to know your new Arteon.
Keeps you on track. And other road users at a distance.

Travel Assist is standard on Elegance and R Line DSG and is an extremely practical driver assist system. At the touch of a button, it ensures driving comfort* by providing assistance in monotonous and tiring driving situations.
Particularly on motorways and good country roads, Travel Assist can keep you in lane and maintain your speed, taking into account the distance to the traffic ahead.

It helps you to cope effortlessly with congestion and stop-start traffic with the aid of the DSG dual clutch gearbox.
* Within the system's capabilities and Drivers must be prepared to override the assist systems at all times and are not absolved of their responsibility to drive the vehicle with due care.
Introducing the 
Arteon eHybrid PHEV
The Arteon eHybrid PHEV is a plug-in hybrid with an electric motor and TSI petrol engine. With a purely electric range of up to 61 KM (Elegance trim) – measured using the new WLTP method – your Arteon eHybrid PHEV is proof that efficient mobility is no longer a vision of the future, even off-road, thanks to plug-in hybrid technology.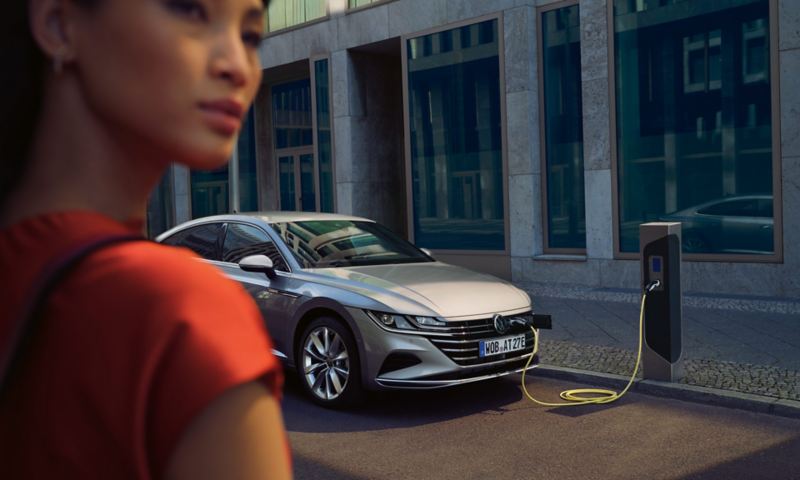 Current Offers and Promotions
Discover our attractive offers and promotions for your next Volkswagen.
3.9% APR PCP Finance1
Enjoy low monthly payments and real flexibility with Volkswagen Financial Services. The new Arteon Elegance is available with PCP Finance from 3.9% APR. 1
3 Year Volkswagen Service Plan
A Volkswagen Service Plan ensures all your routine servicing costs, for both parts and labour are fixed over a period of time. They include all the standard items recommended by Volkswagen such as mandatory service parts including oil filters, pollen filters, high quality lubricants and brake fluid changes. For 221, you can take advantage of our 3 Year Service Plan at a reduced rate of €12.99 per month.
Online Finance Approval
With just a few simple steps we can get you started with your finance application and on the road to purchasing your next Volkswagen vehicle. Start your application online now and receive your application status within 24 hours. 
Apply for finance online
Online Trade In Valuation
Considering trading in your current car? Complete our online trade in valuation and receive a guideline price valuation for your trade in. 
Apply for a trade in valuation online