Volkswagen

Genuine Brakes
Optimal safety thanks to superior quality and custom fit
Optimal safety thanks to superior quality and custom fit
Volkswagen

Genuine Brakes

All journeys are different: from being stuck in rush hour traffic, climbing mountain trails in the rain, to towing trailers along narrow country roads. What they all have in common is that you can count on your Volkswagen Genuine Brakes as they are tailor-made to fit your Volkswagen perfectly. Volkswagen brakes provide superior precision and durability to ensure maximum braking performance, in all conditions. 
The Benefits of
Volkswagen

Genuine Brakes 
Safe
Drive safely with shorter braking distances.

Custom fit
Developed for your

Volkswagen

and matched to its weight, performance, and top speed.

Enhanced endurance
Confirmed in extensive practical tests over 500,000 km in all weather conditions.

Less downtime


Volkswagen

Genuine Brake Pads do not need sanding or adjusting as they are designed to fit your vehicle perfectly. This saves times and money by enabling faster installation.

Longer life
Documented in extensive practical test runs over 480,000 km in all weather conditions.
Volkswagen

Genuine Brake Discs and Brake Pads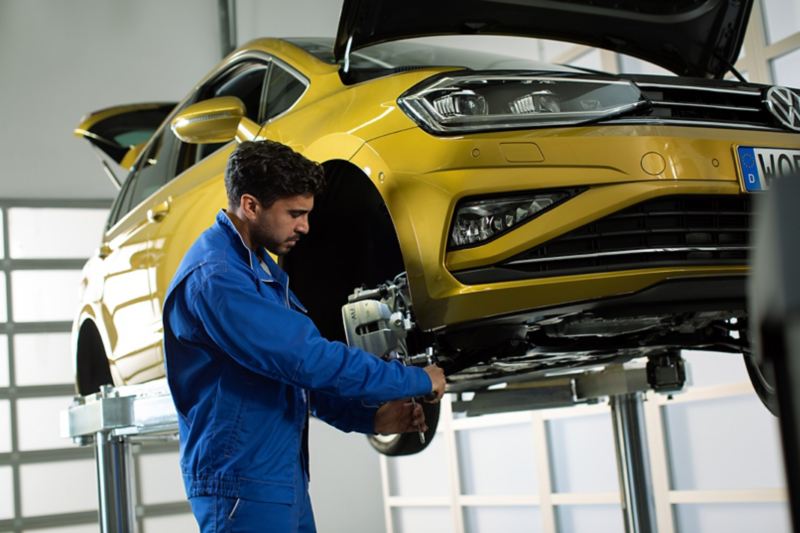 Optimal safety thanks to superior quality and custom fit
The braking system in your Volkswagen is the most important safety element and crucial to your protection on the road. Volkswagen Brake Discs and Brake Pads perform the most demanding tasks of the braking system. It is important these elements work together flawlessly. Volkswagen Genuine Brake Pads are tailor-made to your vehicle to ensure maximum safety. 
Brake Warning lights and what they mean for you.
Brake system faulty
This light means that either the handbrake is applied, the brake fluid level is too low, or the brake system is faulty.

If your handbrake is applied, ensure you release it safely. If this does not resolve the issue, bring your vehicle to your nearest Volkswagen retailer to have the error corrected.

Important:
Adjust to longer braking distances

Pedal pressure may be higher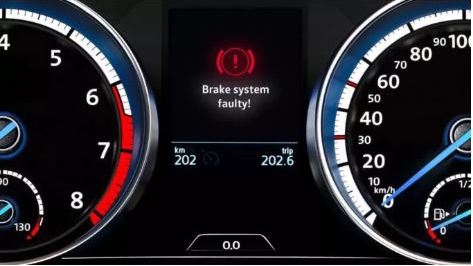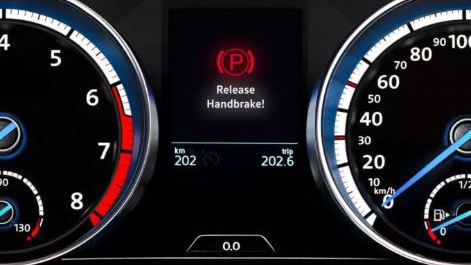 Release handbrake
Lift the lever arm up, press the lock button and pull the lever arm down.
To engage a gear, depress the brake pedal
If the light is illuminated: brake pedal not is depressed. To engage a gear, press the brake pedal.
If the light is flashing: The locking button on the gear selector has not clicked into place. The car cannot be started until it is put into gear. To put into gear, the brake pedal must be depressed and the gear selector fully clicked into place.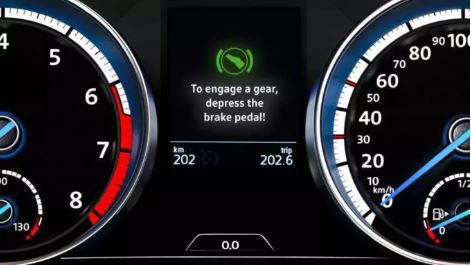 Check your brake pads at
Volkswagen

Partner.


Visit your nearest Volkswagen retailer to have your brake pads checked as soon as possible. They may need replacement.