The right rims, wheels and tyres for your

Volkswagen
Whether it's in winter, summer or across the whole year your

Volkswagen

's tyres are your only contact to the road – rely on quality. Discover information, products and

services

concerning your

Volkswagen

's wheels and tyres here.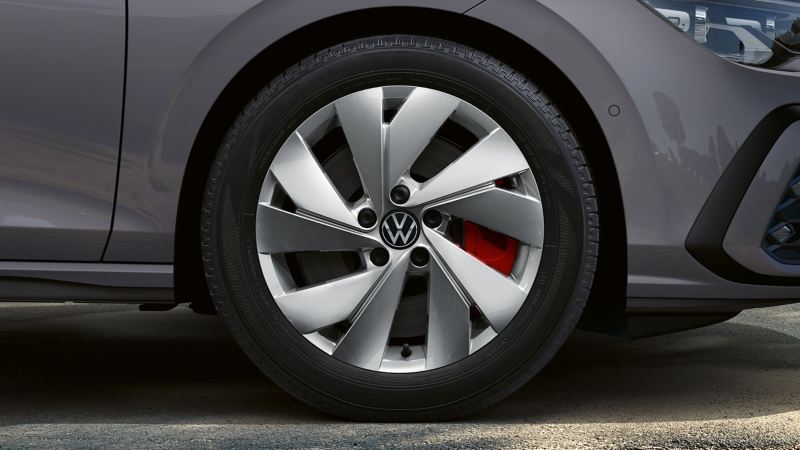 Tyre Insurance from

Volkswagen
Full protection for no extra cost on your new
Volkswagen
Damage happens. With our Tyre Insurance from Volkswagen, you'll have nothing more to worry about. Whether it's a broken-in pointed object, vandalism or kerbing impact, Volkswagen Tyre Insurance is automatically applied when you purchase a new Volkswagen from an Authorised Volkswagen Retailer and protects you for up to 3 years. 
Terms and conditions apply. 
Volkswagen

Tyre Insurance FAQs
Volkswagen

Genuine +Tyres

Small plus, big effect

Volkswagen Genuine + tyres are developed and tested with leading tyre manufacturers especially for our Volkswagen models. The result is quality tyres that harmonise with the individual characteristics of your vehicle model and thus bring all the performance to the road. With Volkswagen Genuine + tyres, you benefit from tailor-made premium quality that gives you the assurance of being well-prepared for almost any driving situation on the road. Excellent performance that you can recognise at first glance: by the plus symbol!
AirStop® – passes virtually every key test

Driven over kerbs, nails or glass shards? With the self-sealing AirStop® tyres, you won't have to worry about any of that anymore – thanks to the sealing technology. The tyre sealant inside punctures of up to 5 mm in depth can prevent pressure loss in the tyre. That way, you can make your way to the nearest Volkswagen authorised repairer at the same speed without losing a single second. Fewer flat tyres, more mobility.
Do you know how to measure tyre pressure and tread depth correctly, how to read the EU tyre label, or when it's time to change your tyres. Learn more about your tyres here.
Rims allow you to make your car even more individual: Be it rims installed ex-works or modified later down the line. Here, you'll also find information on steel and aluminium rims.